Nicole Frain Sets Blistering Pace and Takes the Devil's Cardigan Win!
Words by Nicole Frain:
Having only started riding a road bike in the last three years, I haven't spent much time on a mountain bike. I have done a few local club events, cyclocross on a borrowed bike type of thing, but when the course gets quite technical, I suffer a bit.
So, when my friend suggested I give a 100km gravel race a go in Derby, the MTB location of Tasmania, I thought it was a bit of a joke. I have not ridden 50km on a mountain bike let alone 100. It wasn't even the technical side of racing that worried me, I understood that this was a gravel race, I also knew that 100km on a MTB isn't like 100km on a road bike. It is relentless, you don't stop pedaling, it's hard.
So next thing I knew, I was signed up.
A week out the weather conditions looked great, then every day leading up they changed. Rain, snow, everything in between was scheduled. Pack for all conditions was the advice from event organisers.
The night before I was woken at about 4am by thunder, lightning and torrential downpour. I didn't sleep much more after that. Contemplating how much I would suffer with these conditions. Even if it stopped raining it would be very wet under foot, guaranteed wet feet early on. I will admit, I was thoroughly contemplating what excuse I could come up with not to start in a few hours' time. Getting rained on mid race is one thing, starting a race in the rain is more mentally challenging.
But, come the morning it was cool, but somewhat clear (for now). We lined up. We were separated into three waves to avoid initial congestion. Women off first. The next wave would be two minutes back, u19s and some masters and the last wave 4 minutes back, elite men. The race started straight up and I quickly moved myself to the front. I was solo out the front until about 10minutes in when the first u19 boys caught up to me quickly. They were on gravel bikes, and it was easy to see the advantage my borrowed hardtail would have over them in some sections. Where they would go quicker up the climbs and smoother country dirt roads, I could launch myself over the rocky descents with more confidence. I was glad for my choice of bike at that point.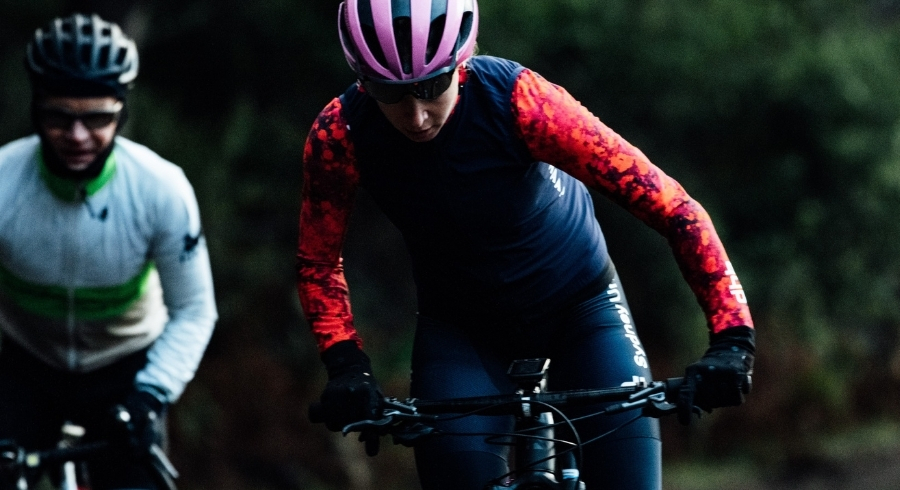 Some bike altercations saw me leave this small group, I was told one rider punctured and another had to make a bike swap after a touch of wheels/rear mech through a corner. I was solo again. I had wondered how much riding with other people there would be. Over 100km, varied abilities and different bike choices, this wasn't a road race that would see 10 riders together and an easy sit to the finish.
I was joined by local MTBer, Ben in the early stages, we were a good match. His downhill skill meant I could trust his wheel and lines to gain some free speed on the descents while I could push our pace uphill. We road together until the first KOM section and then I was solo again.
A group of three guys came through while on the climb, I told myself I would try and stay with them until it got steep (although I had no idea where that was or if it even happened). They helped me lift my pace and I continued to set my 90min HR pb for the day. I knew trying to stay with guys coming through would be tough, starting at the front meant a lot of those that caught up to me would be stronger riders but this only helped push me.
This climb kicked up at the end, and I waved goodbye to two of the boys, I wouldn't see them again today. But I was left with one companion, and I was glad to have the company. Tom and I would stay together the rest of the day, when I felt rubbish, he seemed to come good and visa versa so we were a good match to push on.
I think the hardest section of the race was the first 40km. With the majority of the 2,500m of elevation gained in this first half, it really felt like you didn't make a dent in the distance. This really played with your mind.
The second KOM approached. Tom warned me it was worse than the first. He wasn't lying. It was steep. It's called 'The un-named climb of hell' on Strava, 300m elevation in just under 3.5km and an average 8.1% it took me 17min. But coming over the top wasn't easy either. This whole section was a block headwind, false flats and longer than comfortable inclines with wet gravel that bogged you down, wide exposed open road, and sleety rain, you couldn't see far in front and sitting on the wheel was nearly impossible. Have I convinced you it was fun yet?
A quick pitstop at the 3rd feed station, we each grabbed a coke for some energy.
I started counting down the kms to go at about 30km left. I don't know if Tom found this helpful or annoying. It was something else to focus on except my legs I guess. I wondered a few times how far back fellow females were. I new I was sitting 8/9th on course. But I had no way of knowing where anyone was behind me. If they were within 4minutes this would bump me out of top 10 overall due to the start handicap too. Just push on. It didn't matter really.
The last 20km were quick. Descents, some road picked up the average speed. Then a final sneaky off-road section for the final 6-7km, arguably some of the prettiest trails we rode, but I didn't consider it at the time.
I saw the 5km to go sign and I started to do the maths in my head… I could come in at sub 4 hours. All of a sudden this was my goal. A final lap around the oval and through the finish line we went! 9th over the line and shortly after two more riders in pushed me to 11th overall and first female in 3hrs 58min and 14seconds, the last rider to complete a sub 4hrs for the day. I was very happy with this result.
I finish races like this and even I surprise myself that I made it through the conditions. I tell myself when I am racing in hard conditions how good finishing will feel, to look forward to that warm shower and to do an effort you are proud of, I like to know I gave my best. That's what gets me through.
The race organisers want to make this one of the hardest races on the calendar, an epic event people strive for. I think they will achieve this.
FE Sports Athlete and Writer: @_nicolelouise_
Photos: @kiphotomedia
The Devils Cardigan: @thedevilscardigan
Find out more about the Devils Cardigan Event here- www.devilscardigan.com.au