absoluteBLACK Cannondale Rings are HERE!
Drawing on the extreme success of our oval chainrings across the Globe absoluteBLACK are pleased to announce an addition to their portfolio. The idea came from owners of the Cannondale Hollowgram cranks wanting to ride our Ovals but unwilling to go back to the "old school" spider + chainring combo which is not only heavier but less appealing. Therefore, a direct mount solution that is not only super light but also has excellent shifting capabilities came into creation.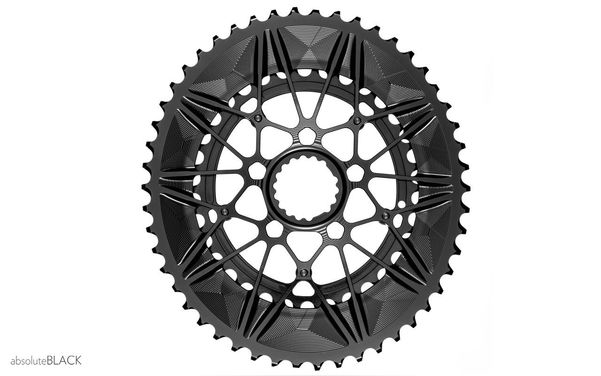 absoluteBLACK have taken slightly different route to create this direct mount 2x rings than Cannondale and decided to use 5 small titanium bolts to connect the two rings together making it "one-piece". Cnc'ing everything from one piece has a lot of limitations in the design concept and machining process. Especially in the teeth profiles and overall shape. Thicker aluminium plates, that you cnc the chainrings from, also tend to have less strength because of the nature of how aluminium is hardened. Making two separate chainrings leads to the usage of much thinner plates maximizing the strength. Taking a different approach allows the final product to be stiffer, use AB's proprietary shifting ramps like the other AB premium chainrings and profile the teeth in the way that it is best for performance and not limited by machining constraints. absoluteBLACK's solution has an almost invisible connection and only adds 6g for the benefit of having the small ring replaceable.
Oval chainrings are taking the market by storm and there is a reason for it - they just work. absoluteBLACK have been working for years in perfecting the geometry and conducting tests to prove that this technology really makes the difference. Having their own laboratory, scientists and cooperation with leading Universities in the world really helps them to push the envelope in this field. Having access to pro tour teams, such as, the UAE team at the forefront where absoluteBLACK is providing scientific biomechanical optimization for all team riders, gives absoluteBLACK a full spectrum of the pedalling motion data, from pro tour stars to an average cyclist to help in the development of world leading products that maximizes rider's performance.

For now absoluteBLACK will offer 50/34T and 52/36T combinations with sub-compact sizes coming soon. Only available in Oval shape and for now in black colour, the 50/34T Oval set weights 178g and at $439.00 RRP.

Taking pre-orders now!